Building Your Products with Serverless
Giriş yazısında , Ghost ile ilgili en iyi gibi biri, sitenizi birleştirmek için tasarlanmıştır. Düzeniniz ve onunla ilgili her şey değiştirilebilir tasarımı, bir sosyal ağ profilinin başka bir klonuna sahip olmamanızasınız.
Özelleştirme ile ne kadar ileriye gitmek istediğinize yönelik olacak, doğru ya da yanlış bir seçim yok! içerikten başlamak için, Ghost'un öğelerinden temalarından hoşlanmak ve daha fazla içerikten sonra birlemekçe ilerler.
Başlamanın yolu, markanıza uygun olan en iyi fiyat ve logoları ayarlayabileceğiniz Ghost'un marka ayarlarıdır.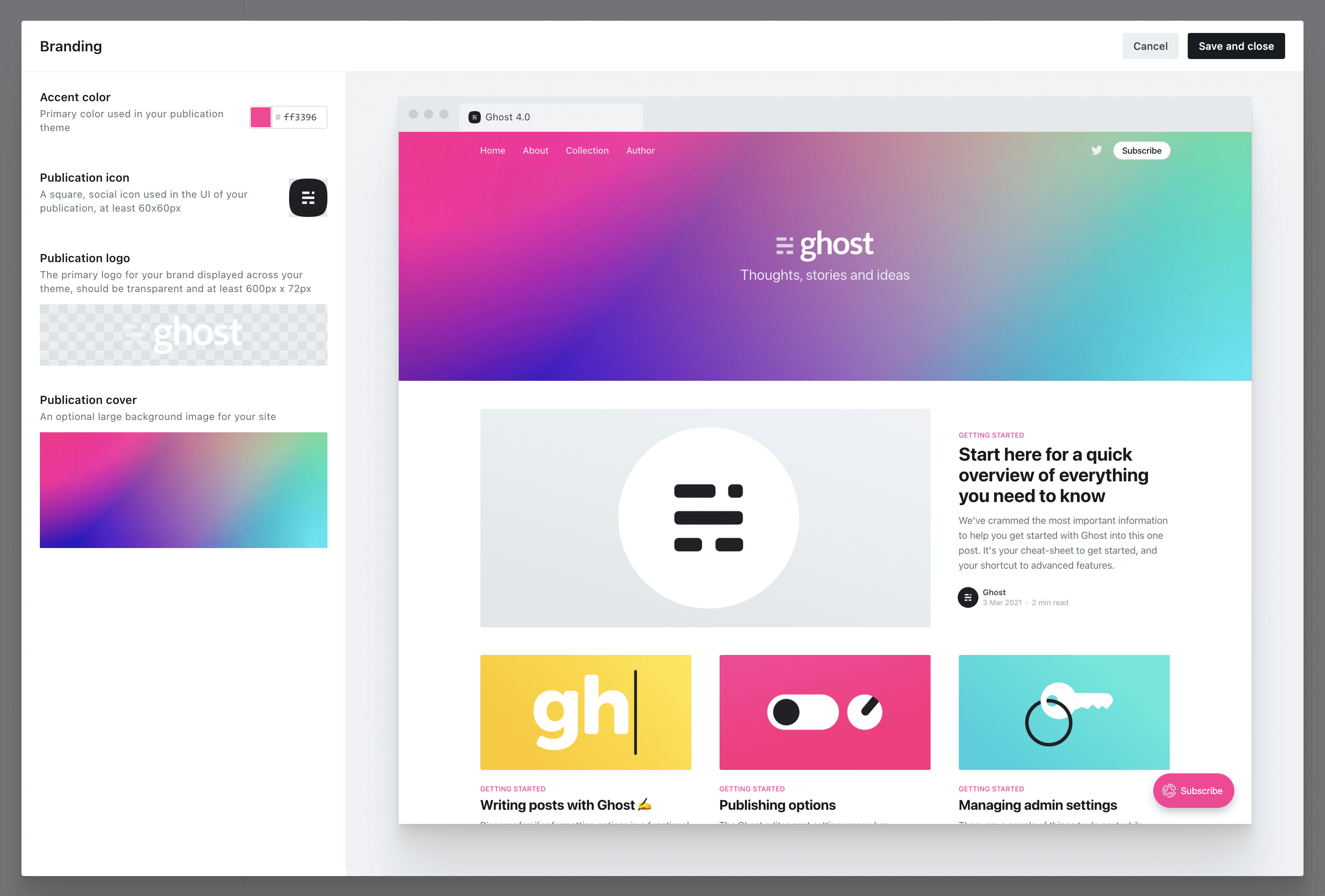 Any Ghost theme that's up to date and compatible with Ghost 4.0 and higher will reflect your branding settings in the preview window, so you can see what your site will look like as you experiment with different options.
When selecting an accent color, try to choose something which will contrast well with white text. Many themes will use your accent color as the background for buttons, headers and navigational elements. Vibrant colors with a darker hue tend to work best, as a general rule.
Installing Ghost themes
By default, new sites are created with Ghost's friendly publication theme, called Casper. Everything in Casper is optimized to work for the most common types of blog, newsletter and publication that people create with Ghost — so it's a perfect place to start.
However, there are hundreds of different themes available to install, so you can pick out a look and feel that suits you best.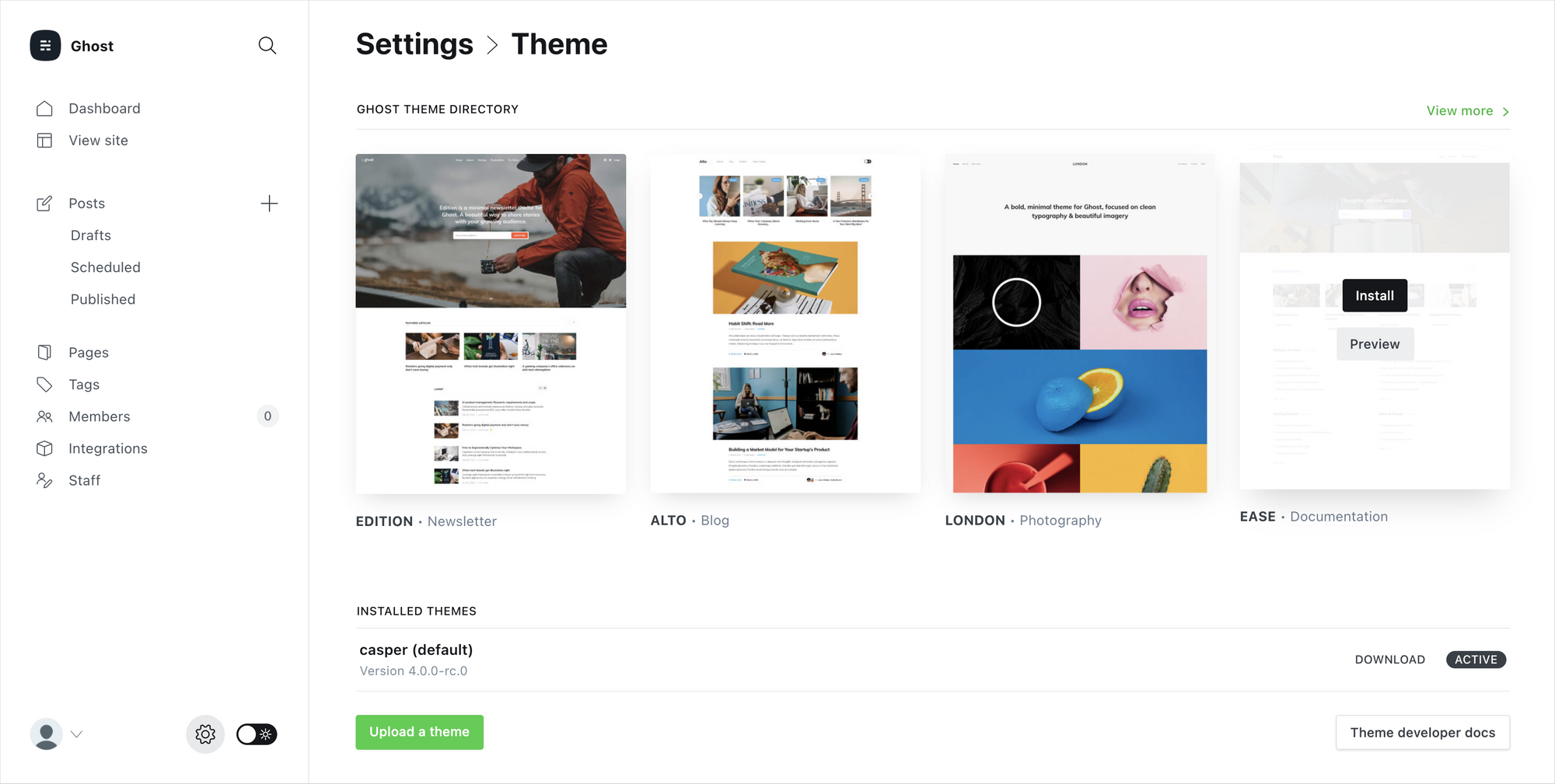 Inside Ghost's theme settings you'll find 4 more official themes that can be directly installed and activated. Each theme is suited to slightly different use-cases.
Casper (default) — Made for all sorts of blogs and newsletters
Edition — A beautiful minimal template for newsletter authors
Alto — A slick news/magazine style design for creators
London — A light photography theme with a bold grid
Ease — A library theme for organizing large content archives
And if none of those feel quite right, head on over to the Ghost Marketplace, where you'll find a huge variety of both free and premium themes.
Building something custom
Finally, if you want something completely bespoke for your site, you can always build a custom theme from scratch and upload it to your site.
Ghost's theming template files are very easy to work with, and can be picked up in the space of a few hours by anyone who has just a little bit of knowledge of HTML and CSS. Templates from other platforms can also be ported to Ghost with relatively little effort.
Nasıl göründüğünüz için temanızın göz atmak isterseniz , varsayılan Casper temasının dosyalarına göz atabilirsiniz . Okuyabilmek için tonlarca satır içi kod yorumunu ekledik ve yapı çok okunabilir.
Görmek? O kadar korkulmaz! Ama yine de plana bağlı.
Kendi Hayalet temanızı oluşturmakla ilgileniyorsanız , MEVCUT Tüm Farklı şablon değişkenleri ettik Yardımcıları Için Eksiksiz Bir Kılavuz Için kapsamlı tema belgelerimize göz atin .